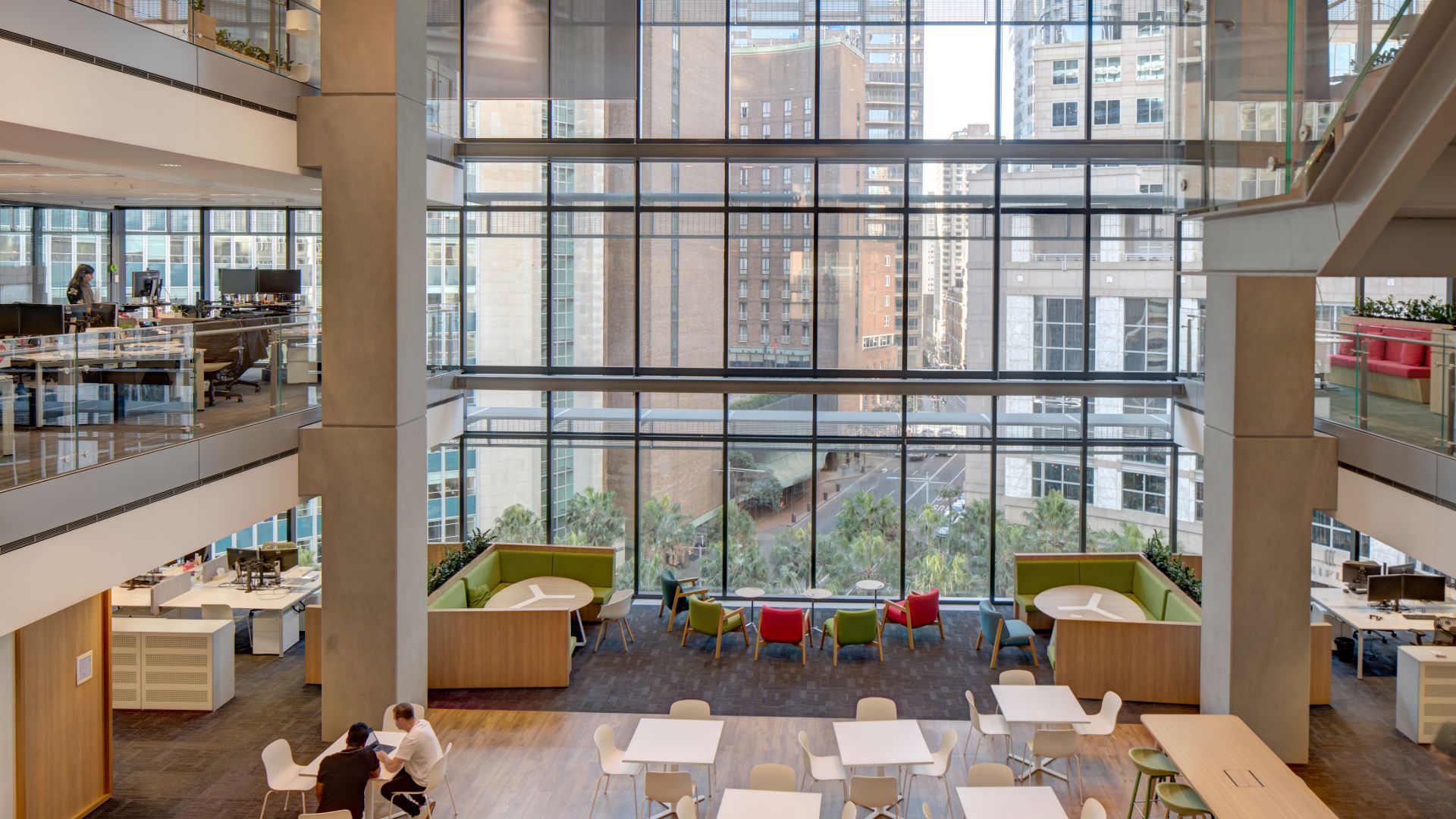 Ground-breaking design
8 CHIFLEY'S VISION FOR THE FUTURE.
Located in the heart of Sydney's Central Business District, 8 Chifley Square is a ground-breaking commercial office tower set to enhance the area as a dynamic pedestrian hub. The project represents the combined efforts of a truly global team of architects, engineers, contractors and client, creating a landmark building that is tailored to its north facing site and commercial requirements.
The building is principally designed as a series of seven stacked 'villages', each oriented around a two, three or four-storey atrium allowing natural light to penetrate deep into the building and create a variety of individual workspace environments which allow privacy and interaction between people. This hollowing out of floor space within the tower allows for the redistribution of space higher up the building where better views can be enjoyed. These 'villages' can be read from the outside, with an exposed structure exuberantly expressed and materials finely detailed but unadorned. The building is clad in a lightweight transparent glass skin providing views into and out of the tower with external shading to protect from the intense Australian sun.
The defining feature of the project is a six-storey open space at street level that not only forms a grand entrance to the building but creates a new, significant area of public space which addresses and completes Chifley Square. The open space is repeated midway up the building and again at the top, integrating Australia's outdoor lifestyle into the city environment. The building has achieved 6 Star Green Star – Office Design v2 certified rating representing 'World Leadership' in environmentally sustainable design and is committed to achieving a 5 Star NABERS Energy Rating.
The project arose out of a Design Excellence competition that attracted both international and established local commercial practices. The eventual winners were a team consisting of a boutique local practice together with an internationally recognised practice. Rogers Stirk Harbour + Partners (RSHP) were approached by Lippmann Partnership – with whom they had worked closely on the East Darling Harbour Masterplan – to take part in the competition on a collaborative basis.
"It was clear that this was an extraordinary site which deserved an extraordinary response. The collaborative nature of this project has been unique. We had cultivated a strong working relationship with RSHP and ARUP over many years prior to 8 Chifley and authorship is something that we truly share. The design, whilst internationally significant, is very specific to the climate and culture of Sydney at this point in time. The project is also a tribute to Mirvac's commitment to environmental sustainability, design excellence and their confidence in a hitherto small practice with the delivery of a significant and iconic project of this scale." – Ed Lippmann, Lippmann Partnership
"The site for 8 Chifley is unique and exceptional. Mirvac challenged us to reinvent the commercial building to be Sydney specific. Great buildings are the product of great teamwork and a remarkable client and 8 Chifley is no exception." – Ivan Harbour, Rogers Stirk Harbour + Partners
"8 Chifley is a fantastic building for a visionary client. The design team have developed a refined office building composed of finely detailed yet largely repetitive elements. The result is a beautiful piece of architecture that enhances the public realm while providing occupants with wonderful internal spaces – "villages" - within which to develop working communities. The whole team was completely aligned in our ambition to do more with less; to consume fewer resources and less energy while producing a better building for Mirvac. The result is a completely integrated design where what you see is what you get; and a better building because of it" Tristram Carfrae, Arup.